The Current Level Report shows an overview of the diagnostic data for the pupils in a class, and shows where students fall in the curriculum based on their diagnostic results.
Current Level Chart
The Current Level Chart can be found on your teacher dashboard. The chart shows where pupils are working relative to the curriculum for their age.
A student may be placed into one of the following categories:
Below expected level
Working at expected level
Above expected level
A student's expected level is based on their current grade. For example, a pupil in Grade 5 who is placed by the diagnostic at Grade 5 will appear in the chart as working at expected level.
Students may also be placed under:
No up-to-date test: this means the student has not taken a diagnostic within the past four months, so the diagnostic should be reset.
In Progress: this means the student has started the diagnostic but not yet completed it.
To view the full Current Level Report, click 'full report' from the chart (pictured below).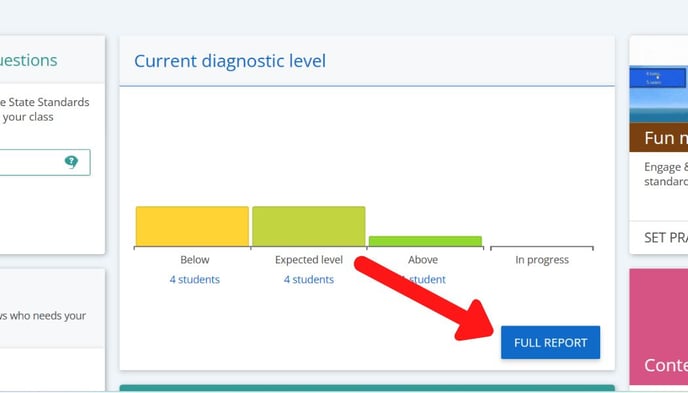 Current Level Full Report
The full report shows how many years above or below expected level each student is working at. You can click on a student's name to view that student's individual diagnostic report.
You can view previous diagnostic results by clicking the month displayed and selecting another month from the drop-down menu.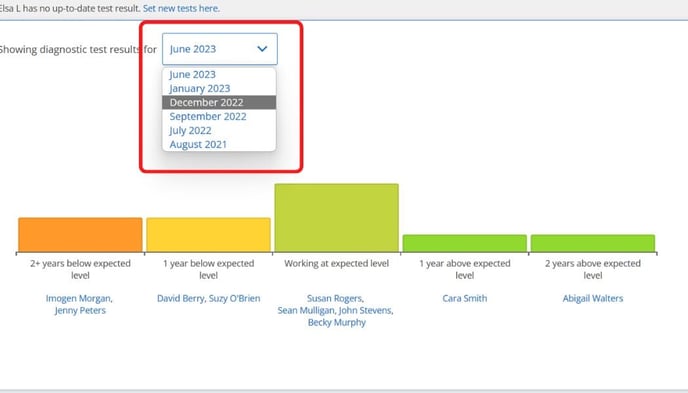 This will change the report to show the students' current level during that month. To view a student's most up to date diagnostic result from that month, click on their name.